MARITIME OPERATIONAL and TACTICAL TRAINING
- Maritime Security, Anti Piracy
>>Homepage
>>>>>
Course List, Overview
Antiterror/Counterterror
MARITIME OPERATIONAL and TACTICAL TRAINING
(MOTT)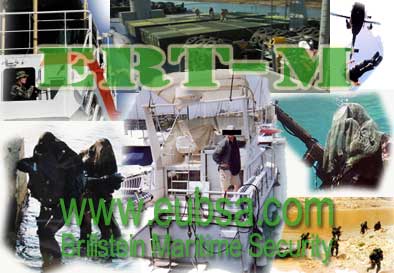 ask for detailed ino on this course Counter Terror, PASO, PMO movie New BSG Corporate movie
ATTENTION: we are now recruiting additional MOTT staff for posting in Kenya and in the Far East station asap. - if you are interested, please contact us shortly
The "MOTT" - Maritime Operational and Tactical Training - is a hyper-intensive and comprehensive hands-on tactical and operational training course in the field of maritime security; it is targeted at security operators wanting to specialize in maritime security, anti piracy.
This course includes the following training objectives and subjects:
The Maritime "asymmetrical threat"

- what it is, how to counter it

Naval nomenclature and vessel types

Maritime force protection zones

Methods of demarcating zones

Counter-Surveillance methods

Open water and pier-side security procedures

Sub-surface threats and counter-swimmer/diver operations

Pier sentry duties and responsibilities

Boarding and climbing techniques

Container climbing and rappelling techniques

and access-denial to attackers

Shipboard tactical movement and close-quarter-battle techniques

Counterterror tactics, drills
How terrorists think and operate
Firearms and training safety
Combat mindset
Intelligence, Surveillance
Handgun drills, Timed handgun shooting drills
Weapon retention
Room clearance
Ship/Yacht protection tactics
anti piracy tactics and strategies
Use of restraints
Unarmed combatives
Special Operations Exercises (SOCEXs)
Port security
Sea navigation, use of various radio and comms equipment
Steering small to medium vessels
Basic and advanced diving
Rapelling, abseiling from helicopter
Due to the pirate attacks in the Gulf of Aden, in West Africa, the Caribbean and in Asia, andemand for our maritime protective services has risen drastically. The waters off Somalia are by far not the only danger zones. Lloyds in London has declared the waters off Malaysia and Indonesia a "war zone", other danger zones are waters all around Africa, the Caribbean Sea and theft of yachts and robberies even occur in leisure ports around the Mediterranean.

MOTT will prepare you for these dangerous tasks and teach you all necessary skills. Graduates will be offered employment with our security teams; successful completion of the MOTT course is mandatory. For graduates of both PASO and MOTT we GUARANTEE full long-term employment. The combination of both courses is the ultimate training in the field of maritime security. These specialists are among the world elite in private maritime security. You will protect vessels from private yachts to large cargo ships, you will retrieve and return stolen vessels, and you will conduct rescue and emergency extraction assignments and counsel shipping companies and ship owners as regards ship and maritime security and more. Please see also www.eubsa.com/ERT and www.travelsafe.eubsa.com

The MOTT instructors will teach you the complete skill set needed for these tasks and prepare you for the battle against crime at sea.

Duration of this course: 6 - 12 weeks in our maritime training camp, depending on selection of course modules (see below). The will be a period of 4 month of preparation which include some study activities (distance learning, reading assignments and some tests) before the in-camp tactical training starts; this prep phase is included in the course fee.

Pre-requisites: candidates must be healthy and be able to swim, no felony convictions, 21 years old or older, preferably hold high school diploma.

MOTT course tuition/fees: 9.500 EURO (for MOTT without the diving training, abseiling from helicopter and introduction to handling small boats and yachts) - 12.500 EURO for the TOTAL course including diving, abseiling from helicopter and introduction to handling small boats and yachts - course fee include accommodation

PASO students receive 30% off the MOTT tuition fee.
Ask us for detailed course info
PASO - perfect combination for MOTT
>>contact us via feedback form >>Bookmark this page